Features & Options for Brummett Pools
All Brummett Swimming Pools Include
Pump
Filter
Main drain
Skimmer
Inlets
Maintenance equipment
Thermometer
Test Kit
Start-up chemicals
Automatic chlorinator
Normal excavation
Popular Swimming Pool Options
Winter Safety Pool Covers
Winter safety pool covers prevent off-season accidents to children or pets. Easy to install or remove, designed for your inground swimming pool, and improves the look of your pool when it is not in use.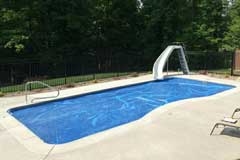 Solar Covers
Solar covers help hold in heat in the pool, allowing you to extend your swimming season.
The meter element is used to display a gauge:
Automatic Pool Covers
Automatic pool covers open and close at the touch of a button, providing you safety, chemical savings, and heat retention for a longer swimming season.
Additional Pool Options
Gas heater or electric heat pump
Handrail
Salt generator
LEDlighting
Automatic pool cleaner
Sliding board
Stacked stone retaining wall
Energy efficient pumps and filter
IMPORTANT: Our swimming pools are not designed for use with a diving board. We consider use of diving boards to be unsafe.